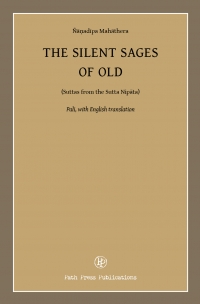 Ñāṇadīpa Thera
The Silent Sages of Old
Suttas from the Sutta Nipāta
Pali and English translation of key passages from the Sutta Nipāta by the late hermit monk Ñāṇadīpa Mahāthera.
Available for free + actual shipping costs!
isbn: 9789460900334
172 p.
€ 0,00

[ Path Press Text Series –2 ]
This small selection of Suttas is by no means comparably small in its importance and significance. For the realization of Dhamma is beyond any descriptive words or concepts: truth is not subject to measurement, comparison or classification. The Buddha and his noble disciples were skilled in the use of words as a means to guide seekers toward the very same realization of Dhamma that they had experienced – to a liberation from all troubles and burdens – but there is not always a need for elaborate explanation of all that one might experience in life. Rather, more meaningful is that which words inspire: the courage to go 'against the stream' of the world, and to put aside its mundane values. To move to silent abodes, forests or mountains, where silence and solitude afford the space to uncover hidden weaknesses, and where there may develop an opportunity to examine and understand the phenomena of subjective experience at a most fundamental and universal level. In short, the invitation implicit in these Suttas is to actually do the work which can bear the fruit of liberation.
Aṭṭhakavagga [Sn 4]
Pārāyanavagga [Sn 5]
Muni Sutta [Sn 1:12]
Sammāparibbājaniya Sutta [Sn 2:13]
Sabhiya Sutta [Sn 3:6]
Available for free + actual shipping costs!